7. November 2023 | Zwickau Automobile Congress
27. Automotive Forum Zwickau
What began in 1997 as a regional supplier conference has become a permanent fixture in the calendar, and not just for industry representatives: this year, the Automotive Forum Zwickau is taking place in the automotive city of Zwickau for the 27th time in a row.
Panel discussions paired with expert presentations, company visits and B2B platforms arouse interest among automotive and supplier companies beyond the borders of Saxony. New technologies, innovations, trends and challenges have always been hotly debated and will once again find their place on the agenda on November 7 and 8, 2023.
27. Automotive Forum Zwickau 2023 – Trailer – YouTube
What can you expect?
The Automotive Forum Zwickau traditionally starts on the first day of the congress with various networking offers, such as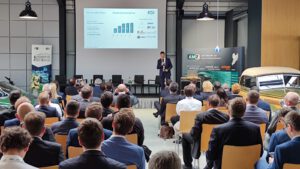 the Welcome Reception,
the AMZ Lounge,
with company tours to automotive and supplier companies in the region and
a networking event in the evening
On the second day of the conference, the focus will be on specialist presentations and panel discussions. The conference will be accompanied by several exhibitors who will present their companies and products to a broad target group.
More Information and registration: Automotive Forum Zwickau – IHK Chemnitz

Speaker
This year we have once again invited top-class speakers who will inspire and carry you away! You can look forward to:
Prof. Dr. Stefan Bratzel, Director, Center of Automotive Management (CAM)
Moritz Krusch, Associate Partner, Porsche Consulting GmbH
Dr. Harald Straky, Vice President Product Developement Electronics & Mechatronics, MAHLE GmbH
Dr. Carsten Czenkusch, Clustermanager, Vitesco Technologies GmbH
Gerhard Meister, Vice President Business Field Electrification, AVL List GmbH
Dr. Stefan Fenchel, Project Leader "Grünes Werk", BMW AG
Dr. Christian Rosenkranz, Managing Director, CLARIOS Technology and Recycling GmbH
Gerd Hahn, Site Manager Motorenwerk Chemnitz, Volkswagen Sachsen
Prof. Dr. Lars Fritzsche, Managing Director, imk Industrial Intelligence GmbH
Dr. Ing. Oliver Manicke, Head of Energy Systems and Wiring Systems, Skoda Auto a.s.
Hui Zhang, Vice President Europe, NIO GmbH
Dr. Joachim Lamla, member of the management board, Porsche Consulting GmbH
Constance Arndt, Mayor City of Zwickau
Max Jankowsky, Managing Director, Gießerei Lößnitz GmbH / President of IHK Chemnitz
Michael Kretschmer, Prime Minister Saxony
Dirk Vogel, Network Manager AMZ Saxony