Powertrain
Martin Dulig, Saxony's Minister of Economic Affairs, Labor and Transport: "Saxony anticipated the growing demand for battery electric vehicles early on and has supported innovations and investments in this sector as part of its technology- and industry-neutral funding. The mobility revolution is moving forward. And Saxony is right at the forefront. I am confident that the successful transformation of Saxony's automotive industry toward more climate-friendly drive systems will also secure industrial production and value creation in the Free State of Saxony in the medium and long term. Qualification, innovation and networking continue to be effective measures that we will support in the future."
E-Mobility Dashboard 2022-2023
The following graph from our science partner CATI shows the figures for the automotive industry in Saxony from 2022 and outlook 2023.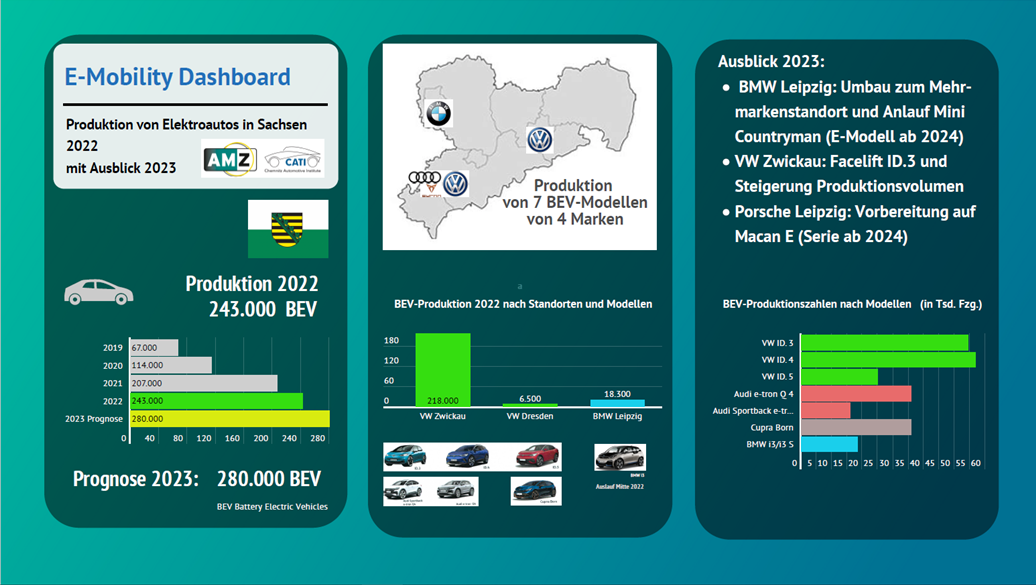 © Chemnitz Automotive Institute CATI
In 2022, the production of fully electric passenger cars at the automotive locations in Saxony increased by around 18% compared to the previous year – to 243,000 units. This accounts for around 40% of the total number of all-electric vehicles produced in Germany and thus continues to identify Saxony as the TOP region for electromobility.
"For 2023, we expect an increase in the production of electric vehicles in Saxony by about 15% to 280,000 units" – said Prof. Werner Olle when explaining the CATI forecast for the current year.
Even beyond 2023, Saxony is well positioned in the trend shift to electric mobility. "Porsche is also opening a new chapter at the Leipzig site in 2024 with the Macan E, and BMW is also producing the Mini Countryman as an electric variant. This means that Saxony is setting a further course in the direction of e-mobility," concludes Dirk Vogel.
AMZ Sachsen supports its members in the transformation process towards electromobility through:
Studies: Elaboration of analytical studies on the development of electromobility in Europe
E-mobility work forum: Exchange of experiences with the members to reflect and evaluate the trend of e-mobility
Project development: Incubation of innovative ideas for collaborative R&D projects in the field of e-mobility
Funding advice: Exploring possible financial resources for R&D projects in the field of e-mobility
Partner matching: Establishing partnerships / collaborations
Projekt management: specializing in cross-company R&D projects, the project management is taken over
Projects on the topic Powertrain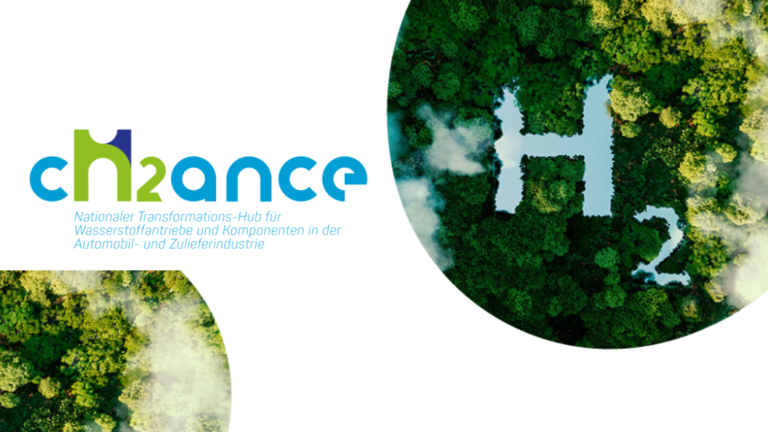 Powertrain
Worldwide markets for hydrogen, fuel cells, and fuel cell vehicles are emerging. This trend is being embraced by the cH2ance Transformation Hub ...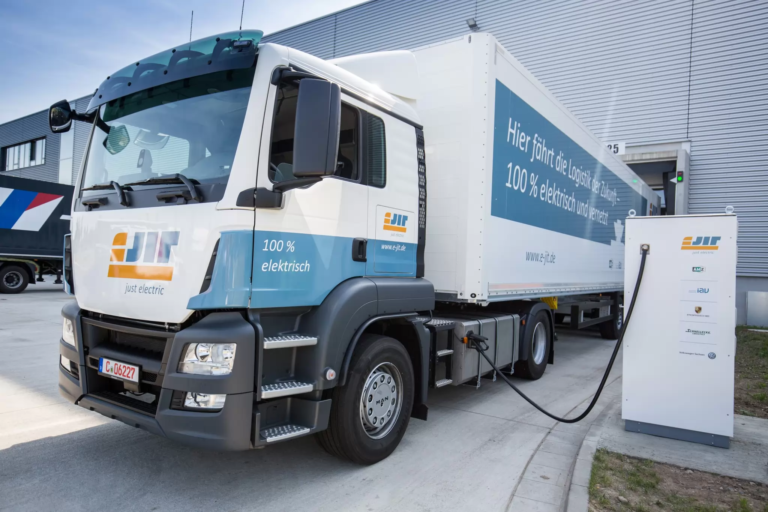 Powertrain
In the industrial supply chain, trucks are predominantly used as a means of transportation. The increasing level of connectivity and complexity ...
More content on the subject Powertrain