26. September 2023 | Events
ADAS Experience including the inauguration of the DEKRA City Course test track
The first conference at a test track – in collaboration with Carhs and DEKRA
Learn more about the relevant framework conditions for the development of safety-supporting driver assistance systems at the ADAS Experience conference:
Requirements, technical foundations, development and approval methods on the theory day at the conference hotel, followed by practical experiences on the test track on the demo day. Various test scenarios will be demonstrated, and examples of optimal test technology application in different test setups will be showcased live.
You can expect:
A presentation of current and future requirements for emergency braking, lane-keeping/evasion, and highly automated driving functions, as well as development strategies leading to a robust system.
Direct discussions with the creators of the conditions for the development of safety-relevant driver assistance systems: Representatives from legislation, consumer protection organizations, OEM departments, and providers of simulation and testing technologies.
A hands-on experience with various test setups, targets, driving simulators, and control software at the practice day's demo stations.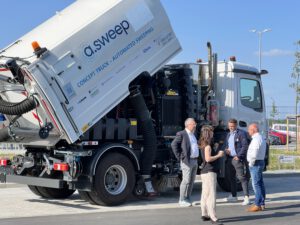 For the finish of our TADA project "Automated Street Sweeper" we will present the autonomously driving sweeper together with our project partners at the opening of the DEKRA City Course on 26.09.2023 – and also let it drive on the test track.

In addition, you can look forward to the presentation of our TADA Crossroad Assistant and many other innovative technology trends.
Program
https://www.carhs.de/en/the-ADAS-experience-program.html
Date and place:
Tuesday 26.09.2023 and Wednesday 27.09.2023
DEKRA Automobil Test Center, Senftenberger Str. 30, 01998 Klettwitz, Deutschland
Quelle Text: carhs / https://www.carhs.de/de/the-ADAS-experience-ueberblick.html