AMZ and Silicon Saxony sign cooperation agreements in Poland
As part of the delegation's trip led by State Minister Thomas Schmidt, the Saxony Automobile Suppliers Network (AMZ) and Silesia Automotive & Advanced Manufacturing (SA&AM) signed a cooperation agreement in Katowice today. The aim is a collaboration between medium-sized automotive suppliers from rural areas. The focus is on the digitization of supply chains and the development of joint technical solutions for the transformation process in the automotive industry.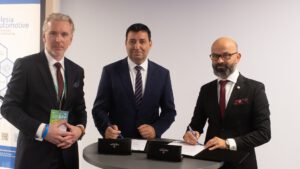 "By signing this cooperation agreement, the previous Saxon-Polish cooperation can be deepened and expanded to include new contacts," said State Minister Thomas Schmidt. "The common challenges in the field of digitization can only be answered in a European context."
In addition, a cooperation agreement between Silicon Saxony e. V. and the Polish Association for Software Development SoDA (Software Development Association). Both partners want to establish a close cooperation, exchange information, organize joint industry events and initiatives and support each other in building cross-border networks.
In the morning, the minister opened the Saxon-Silesian simul + workshop "Regional Value Creation in Times of Digitization" at the 1st European Future Forum, in which 40 representatives from Polish companies and research institutions took part in addition to the members of the delegation from Saxony. "Our simul + workshop has achieved exactly the effect we have been working towards for a long time," said the minister. "Personal contacts have been established between Saxon and Polish participants who are researching or working in similar fields. I am sure that these contacts will contribute to a close cooperation across the border that connects our two countries."