News from our AMZ network: AMR-Hydraulik invites you to the hydraulics breakfast on 04.05.2023
After a break of three years it is finally back: the hydraulics breakfast! – THE networking event of hydraulics!
On 04.05.2023, the Hydraulics Breakfast team welcomes you warmly to the Arena-E in Mülsen near Zwickau for a lively exchange with manufacturers and users.
Since 2010 the concept Hydraulikfrühstück inspires the visitors because of the always varied program and the in-depth information and is now for the first time in Zwickau – hosted by AMR-Hydraulik Zwickau GmbH and AMR-Hydraulik Chemnitz GmbH.
Network with other users, inform yourself at the booths of the in-house exhibition and at exciting lectures – all framed by many culinary delights. It's not called the Hydraulics Breakfast for nothing.
For more information and the link to register, scan the QR-code: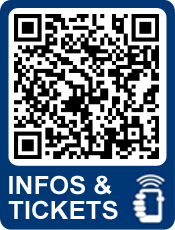 The following presentations are scheduled:
Pressure accumulators – alternative test methods, presented by TÜV Thüringen e.V.
Safe handling of hydraulic hose lines – what is required by DGUV 113-020
Hydraulic cylinders – maintenance and repair
Stress management
And as a surprise:
Young star Lena Beermann
Vouchers for oil samples
Raffle for 4 training places in the Academy for Fluid
Exhibitors
Stauff | AKG | TÜV-Thüringen | Hadrian | Alkitronic | New Pig | Hawe | Oilcontrol
Hosts
AMR/Rauh Group | AMR-Zwickau | AMR-Chemnitz | AMR-Dresden | AMR-Ilmenau | AMR-Brandenburg | AMR-Magdeburg | AMR-Leipzig | Rauh-Hydraulik GmbH
You can also find more news about AMR-Hydraulik and other AMZ members in our supplier portal.
Source Cover + Text: AMR-Hydraulik, Alexander Kolberg