12. October 2021 | Reviews
25th International Automobile Congress Zwickau
Note the appointment in the calendar
Revolution in the automotive world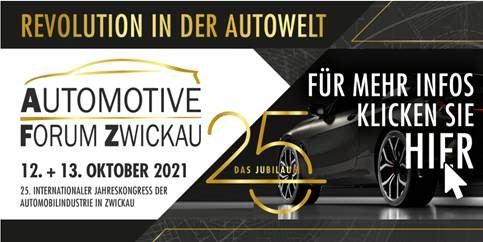 This is the theme of the quarter-century anniversary congress of the Chemnitz Chamber of Commerce on 12. and October 13, 2021 . Right now, in the time of upheaval in electrification and digitization, the automotive industry is also affected by the current difficult economic situation. Linked to this is the industry's limited global supply chain.
Manufacturers and suppliers have been facing enormous challenges for several years. Digitization of production, electromobility and new drives, autonomous and networked driving are revolutionizing the automotive industry. In order for this structural change to succeed and for the automotive industry to remain globally competitive, far-reaching partnerships are required between all those involved. Where are there still opportunities and alternatives here? These new developments will be discussed on a broad professional platform in October 2021.
Various speakers will discuss these new developments on a broad professional platform in October 2021. The top speakers include:
Prof. Dr. sc. techn. Thomas Koch, Head of the Institute for Piston Machines, Karlsruhe Institute of Technology (KIT), Karlsruhe
Dr. Jan Spies, Volkswagen AG
Werner Diwald, CEO, German Hydrogen and Fuel Cell Association, Berlin
Michael Colberg, Chief Operations Officer Automotive, REHAU AG + Co., Rehau
Roberto García Martínez, CEO, Eurobattery Minerals AB, Stockholm
Dr. Robert Cisek, Managing Director, Volkswagen Group South Africa
Further information – website IHK Chemnitz
The AMZ member lounge traditionally takes place on the first day of the congress, October 12, 2021 . AMZ members receive a personal invitation to the network meeting.
Best of Automobilkongress 2020
Take advantage of the opportunity in advance to bring your company to the automotive congress:
Get Sponsor (pdf)
Your advantages here include free participation in the congress, a free advertisement or a company presentation.
Present yourself with a Company status (pdf)
A company booth offers the ideal basis for direct and intensive communication with participating automobile manufacturers, suppliers and service providers.
Activate a Advertisement (pdf) in the congress magazine
With an advertisement in the congress magazine, you have the option of presenting your company individually according to your design.
Image source
© Calendar icon: freepik – rawpixel.com